Efforts to mitigate the effects of the deadly Covid-19 pandemic seem not to be enough as Ghana records 4 new deaths while a total of 120 are in critical conditions.
Though active cases have a marginal reduction from 7,773 to 6,567, new cases recorded also had a marginal increase from 418 to 490 after 24 hours according to Ghana health service release.
The death toll as of today 20th February 2021 stands at 572 while active cases reduce to 6,567. Ghana is the 10th most hit country in Africa with a cumulative case count of 79,655 after 862,986.
With a country population of over 31,483,306, the struggle to overcome this deadly virus seem.
Cumulative regional breakdown of cases are as follows;
Greater Accra Region – 45,946
Ashanti Region – 13,966
Western Region – 4,681
Eastern Region – 3,521
Central Region – 2,783
Volta Region – 1,524
Bono East Region – 1,081
Upper East Region – 964
Northern Region – 901
Bono Region – 894
Western North Region – 793
Ahafo Region – 645
Upper West Region – 339
Oti Region – 272
Savannah Region – 72
North East Region – 61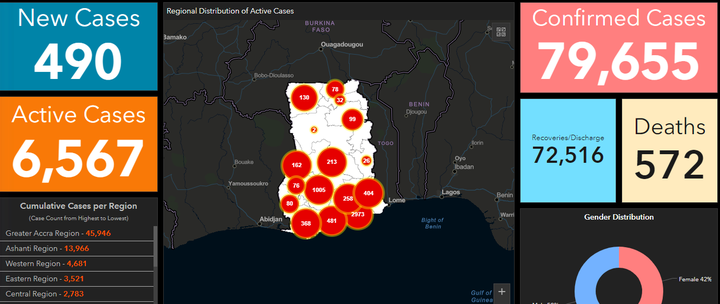 Source: http://todayaccuracy.com